Join Us On Facebook
---
Congratulations to the
2014 Ct. Ski Councils On-Snow Carnival Champions,
" The Newington Ski Club ", and what a team effort it was! Even before the event started, our Women's team was decimated with injuries, Deb Adams tore a thigh muscle, Jane Moller broke her leg and Simona Raneri had to work. So our second team, as they called themselves, consisted of Adela Martinez, Jill Bennett, Kathy McGuiness, who had to be coaxed out of retirement and the only racer to survive from the original team, Sherry Dyson. Just when we thought that we had everything under control, Adela hurt her Knee and Krystal McCarthy had to fill in for her. Our men's team did not fare much better, As Jeff Goldschmidt, who had the 3rd. fastest time in the downhill, had prior commitments, Deb Adams was hurt and Stuart Jones pulled a muscle in his leg during the D.H., and could not race. Results
The first event of the weekend was the downhill. Mike Misencik had the fastest time on the mtn. but we only managed a 5th. place finish for the team. Next up were the Jr. A and B races, thanks to the Rogala clan, Dario Dyson and Megan Hunter, we had our best ever finishes in these events. A 2nd. Place in Jr. A and a 3rd. place in Jr. B. The previously mentioned women's team finished 5th. earning valuable points to the overall competition. The men lived up to their top billing and came in 1st. Mike Misencik again had the fastest time on the mtn. followed by Jeff Lepage, Glenn Johnson, Fran Mcphee, John Putnam and Bruce Laroche. The club team competition was next and we took another 1st. with Ron Kapraszewski coming off the injured reserve list having the fastest time on the mtn. followed closely by John Hunter, Doug Rogala, Dan Petit, Mike Brown, Joe Sabato and his son, Ted and Tad Rogala, Dave Dyson, Rusty Cushman George Lape and John Paturel. That concluded the ski events and Volley ball was next. John Paturel donned a red spiked wig and passes our beers to the competition in hopes of slowing them down, it worked as we came in 2nd in that event and 4th. in the Fun Race. Results
This brought us to Sunday's events, holding a slim advantage over the Mt. Laurel ski club. The Cross Country ski race was canceled due to icy snow conditions, so every club that had a team, received one point for participation, Mike Kallberg is still the reigning champ! It all came down to the final event of the day, which was the Ski Rally. Bruce Laroche, George Lape, Dan Petit and Lorraine Hughes anchored our team with a host of other members to a 2nd. Place finish, to secure enough of points to win the championship. " Go Newington! " Results

A special notation to Stuart Jones and Shirley Thomassen who represented the club at Danbury's annual mud slid party, although they did not look so good the following morning. Also last but not least, a special thanks to Sherry Dyson for being our Iron person, competing in the Downhill, Women's team and Cross Country races, " Ya-Hoo! "
---
Tuckerman Hike / Ski 2014
April 11-13 Friday, Saturday, Sunday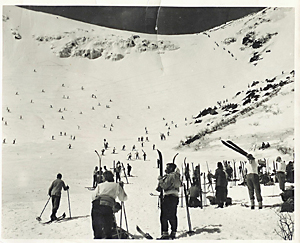 Friday April 11th Travel to White Mts
 Friday and Saturday Night Lodging.
AMC and The Royalty Inn Lodging.

A) AMC Pinkham Notch (Joe Dodge Lodge at the Trailhead )
B) Royalty Inn in Gorham, NH
Double or Twin $74.00 plus taxes.

Hike & Ski Tuckerman Trail on Saturday starting early
After skiing or hiking meet and catch up in the parking lot with some good stories.
Sunday ski Wildcat if open or a hike.AMC phone number is (603) 466-2727
Royalty Inn phone number is (603) 466-3312 or
reservations (800) 43- RELAX
My Number is (860)604-5882 Cell
Bruce Laroche uncmoos@comcast.net
Two Sunapee lift tickets $50 ea

.
Contact Ron Kap………. At: 860-620-3498
---
BULK TICKET INFO
Does anyone have extra bulk adult Okemo tickets for sale that they don't plan on using? Please let John Hunter (mtholly@sbcglobal.net) know so he can resell them for them to interested member's.
Mt. SNOW TICKETS
$58.00 ADULT BULK TICKET. EIGHT LEFT. MUST BE A CSC MEMBER. CALL SHIRLEY 860-302-1713.
STRATTON TICKETS
(3 Adult at $55 ea. And 4 Juniors at $47 ea.) AND BROMLEY (3 Adult at $46 ea. And 1 Junior at $36) STILL AVAILABLE.
CALL JILL S. BENNETT 860-345-7382
---
Keep It Cool!
To use of Bulk and Awareness Day Tickets there are some simple rules.
You must be present a CT Ski Council affiliated Ski Club membership card with a current season sticker.
 A driver license or ID showing who you are.
No Excuses, No List showing you are a member, No Nothing.
 Absolutely No Lip of any kind.
Participating ski areas are under no obligation to sell you a ticket.