Some of the events on tap for this season are:
10/23 Biking in Europe – Neil
11/6 Walking El Camino De Santiago
11/8 Pete Noyes Memorial Hike at 10 am
11/21 Open House at 7pm at PAC
11/15 CSC Snowball Hartford Marriott-Windsor
12/13 NSC Xmas Party J.Timothy's
Sugarloaf Ski Trip 3/8/2014 – 3/13/2014
Soup, Stew and Chili Night to benefit
Skiers Unlimited in Feb. 2015
On Snow Winter Carnival at Okemo – March 6-8, 2015
Sugarloaf Ski Trip – March 8-13, 2015 Contact Dan Petit
Bus Trips to Okemo, Stratton and Magic,
Contact Glen Johnson
---
Message from the Prez:
Welcome to all of our returning members, new members and prospective members!! The Club is gearing up for its new Winter Season, after the summer break, biking, hiking and golfing.  Membership renewals are currently discounted through October 31, 2014. Please sign up now to avoid missing out on your discount.
We had a great season this past year and hope to have an amazing one this year. Thanks to George Lape for the past two years leading the club! We will be looking for volunteers to help on events this year. Please consider stepping up to help.
Welcome to our new officers: and Board of Directors:
Jon Putnam, VP & Membership Chair, Andrea Albert, Secretary and Carol Sweeney, Treasurer, and Krystal McCarthy is this year's Snowball Ambassador.  Also, Our Board of Directors are:  George Lape, Past President, Shirley Thomassen, Marie Lorenzo, Dan Petit and Joyce Thorner.
Looking forward to Fun in the Snow,
Adela Martinez,  President
---
Ski Sun Travel Expo
Sunday Nov 9 10:00 am – 4 p.m
Aqua Turf Club, Plainville
1 Adult Admission
< Right Click To Print
MEETING START TIMES ARE NOW AT 7:30 pm

at the Polish American Club!  Pizza Meetings on the 1st Thursday of each month will start at 7pm.  (
Reminder:  The Club meets on the 1st, 3rd and 4th Thursday of each month.)
---
NSC Membership Do It Now!
Early membership registration is now open!!
Registering early, before November 1st
---
SNOWBALL SEMI-FORMAL DANCE
SATURDAY NOV. 15, 2014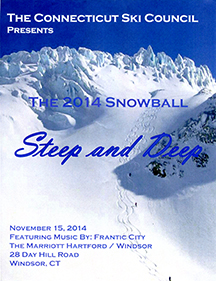 Once again Newington ski Club will be back for the annual Snowball Dance at the Hartford-Windsor Marriott. It is a semi-formal dance party held by the Connecticut Ski Council and always provides one of the greatest nights of the year. You and 600 of your best ski friends will enjoy a live band, plus the food and beverage we all share in our very own club suite. This year's theme is Steep and Deep. The party rocks on until the wee hours of the morning, so make reservation by calling the Hartford-Windsor Marriott 860-688-7500 and tell them you are with the ski council for a $99 room. Our Ambassador Extraordinaire Krystal McCarthy krystalbmccarthy@gmail.com will be selling tickets for the dance, which are the best deal of the year at $20 per person. Get your tickets at the next meeting. Raffle prizes are also pretty awesome, with plenty of lift tickets, equipment, ski and stay accommodations, maybe even Reason Magazine subscriptions. So mark your calendar and stretch those legs so you will be ready for some serious dancing.